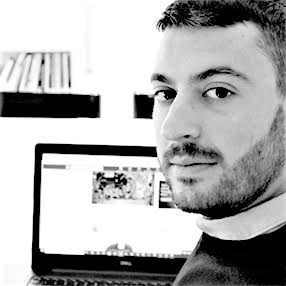 Gabriele Figus
There are two things that hold no secrets for Gabriele: social media marketing – he was an early adopter of all social networks, including inexistant ones – and food delivery sites, as is confirmed every day at lunchtime. If you are looking for a short distraction on a busy day,
he's your perfect colleague. He will win you over by ordering the worst junk food available! And he also claims to cook a great amatriciana, although there is no proof of this – not even on Instagram.
When he's not managing the social profiles of clients large and small (he has worked in just about every industry from FMCGs to entertainment and culture, as well as fashion and corporate), maniacally perfecting advertising campaigns, he keeps his food guilt at bay by playing basketball. Then, he does yoga. He has participated as a speaker in important events in Italy, worked as a coach for companies and held university courses. Got the idea? No, you don't! On Wednesday evenings he transforms into a DJ and over the weekend he flies
towards unknown destinations. And if you're wondering how he does all of this… yes… too many calories!
Back to the team