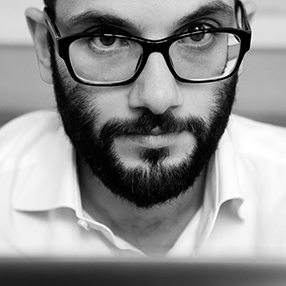 Luigi Teodonio
To his niece, he's uncle Gigio, to his friends he's simply Giggio. With his unkept beard and gaze lost in space, Luigi is a modern dreamer torn between his love of politics and new technology. A self-proclaimed nerd with political chops that has turned his passion for routers, digital cameras, and smartphones into a career. Give him a title, a couple of keywords and he'll throw together the perfect Dummies guide on how to improve PC settings or how to choose the best antivirus for free- while strictly adhering to SEO rules and the right positioning on a search engine.
His greatest misfortune? To find himself working with his sister or that "dictator in a skirt." Well, you can't have everything in life. A hard-headed and tireless worker, Luigi's childhood dream was to become a mechanical engineer. After a few months of numbers, formulas and AutoCad programs, it became clear that his creative spirit could not be contained to such rigid studies.
So he chose the green gardens of Villa Mirafiori and pursued his first love: philosophy. Next, he packed his bags for Sweden, where it gets dark at 3pm in winter and snow falls until May. In Jonkoping he met an unusual character: the professor Sverker Johanssson, an authority in his field who opened the door to Swedish language and his mechanisms. Sweden has remained in his heart, most likely due to their infinite respect for rules – the kind of rules that his niece, Aurora, doesn't care to follow.
Back to the team