In 2020, we started a new project with the CVA Group, a 100% green player in the energy sector in north-western Italy, addressing a multichannel communication strategy for all CVA touchpoints: digital, SEO, social media channels, internal communications and media campaigns.
After the launch of the new brand with an integrated campaign (TV, print, digital), 2021 is the year of the first consolidation with a campaign targeting Instagram and Influencers and the design of the EnergieMAG digital magazine, an information portal to engage and position the brand on sustainable development issues.
Context
Establishing a new identity, supporting the people and the territory
CVA (Compagnia Valdostana delle Acque) has been active for 20 years in the production, distribution and sale of renewable energy in Valle d'Aosta. Due to its strong connection with this territory, CVA has become a well-known player at the local level, although it remains still unknown outside the regional borders. After being rebranded by Inarea, CVA Group has entrusted Cultur-e with an integrated activity of communication, in order to accompany and enhance the path of transformation it has undertaken, aimed at a strong development in the national territory. In the summer of 2020, we made our first assessment: we analysed the two realities CVA Group is composed of (CVA SpA and CVA Energie) and we immediately worked on a communication strategy with the driving objective of increasing the brand awareness, supporting the business and creating synergy between CVA's traditional and digital contact channels. In 2021, in addition to the design and development of the EnergieMAG brand magazine, we intercepted the change which was happening on Instagram – in terms of themes and formats – and decided to focus on the involvement of sector influencers, the creation of Hero videos, as well as brand storytelling on the theme of sustainability.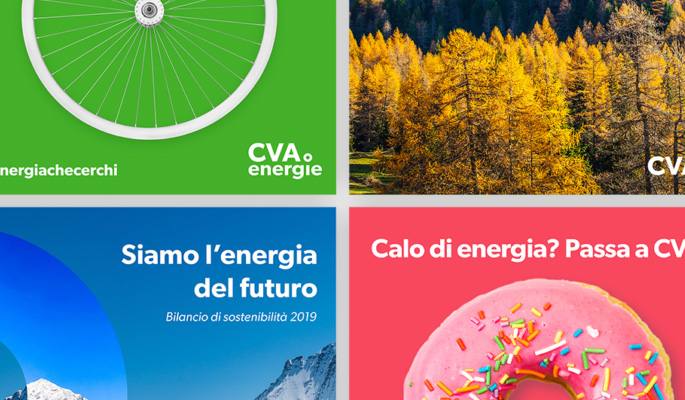 SEO Content, Social Media Profiles, Media Campaigns and Internal Communications
Based on the Group's needs, Cultur-e developed a multichannel communication strategy calling for integrated and synergic activities: a SEO strategy to identify actions on the two CVA websites (corporate and commercial), optimizing existing pages and producing a significant amount of new content, both dynamic and static; a social media strategy, including the governance and ongoing management of channels; a media plan and campaigns to support the CVA Energie brand in the national go-live; and an internal communications strategy to involve employees as ambassadors with dedicated initiatives and workshops.
Since 2020 – Analysis and strategy for multichannel communications, operative management of web channels, development and management of ATL/BTL advertising campaigns. Management and governance of multichannel communication strategy: assessment analyses; target analyses; definition of strategic issues and brand positioning; SEO and content strategies, multichannel editorial planning, social media strategy and channel governance; development of media plans with integrated multichannel scheduling guidelines for on- and off-line advertising campaigns; guidelines for the management of virtual contact channels (contact centre, chatbots, virtual assistants).
From 2021 – Design and development of the EnergieMAG information portal: editorial project in an SEO key; information architecture; UX and UI; technological development; editorial planning. Newsletter: on a monthly basis, it offers updated content on services and activities, starting with those created for EnergieMAG, also providing useful content of the CVA Group. Instagram campaign: involvement of industry influencers, creation of promotional Hero videos to support brand positioning and brand storytelling on the theme of sustainability.
Activities
Communications strategy
SEO strategy
Social media governance
Social media strategy
Social media management
Social media advertising campaigns
Campagna media
Internal communications strategy
Publishing via CMS
Newsletter and DEM
Multichannel, circular and integrated communication
Social strategy and editorial planning work in synergy, with the common goal of promoting CVA's notoriety at the national level and supporting its visibility and authority on the web. The principles of brand storytelling address content and formats to involve and inform users in a clear and direct way. We have enhanced the new paradigm of sustainability, intercepting its evolution both in the themes offered – with the informative and in-depth content of EnergieMAG – and in the social formats.
With the involvement of industry influencers – identified through careful analysis and in continuity with the brand values – we have aimed to increase the fanbase of CVA Energie and CVA Group through short tutorials, advice and green news, information. The approach is a circular and integrated one: from social media to the magazine and vice versa, so as to enter the world of CVA in a transversal and engaging way.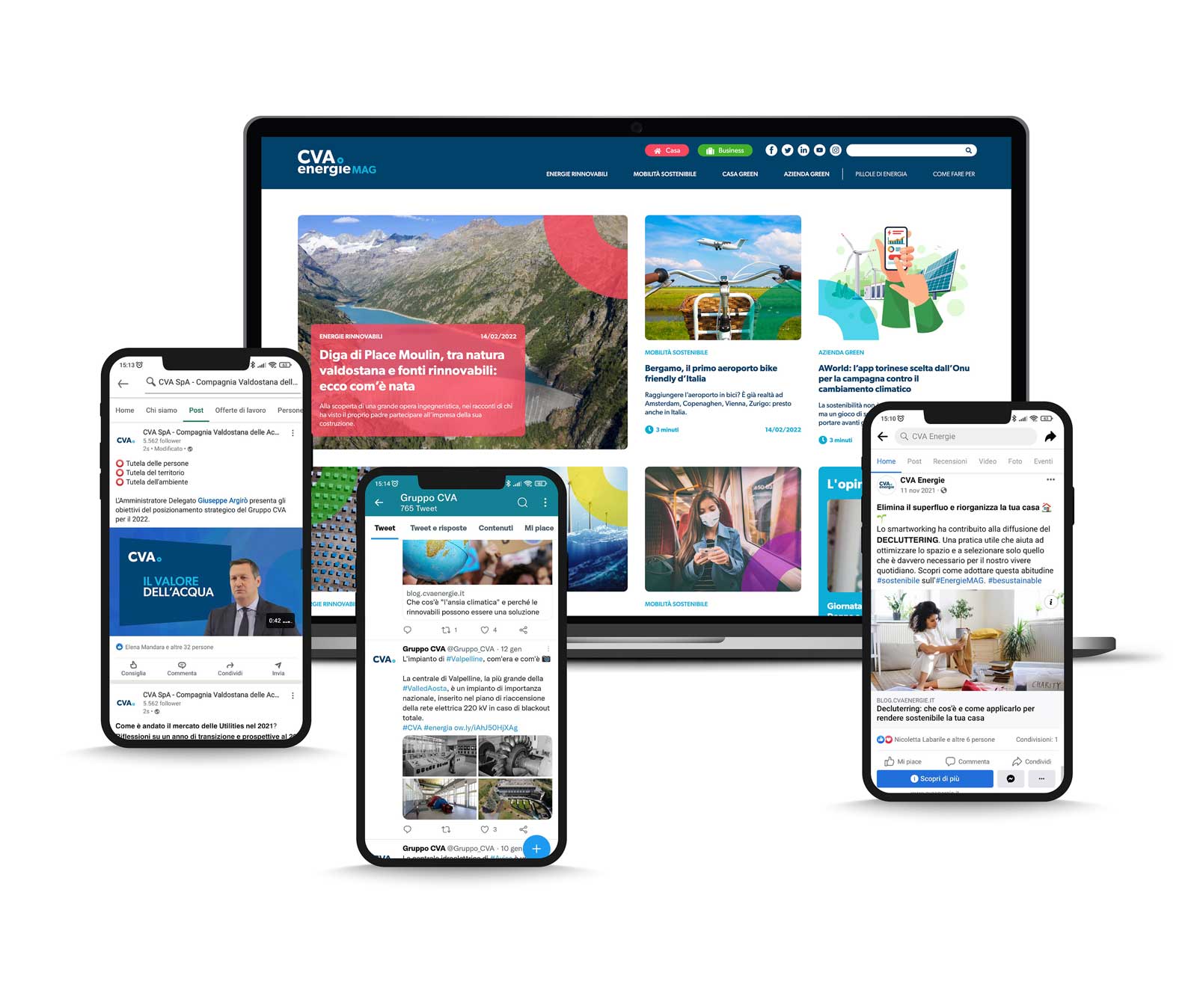 Contact Cultur-e