In 2020, we started a new project with the CVA Group, a 100% green player in the energy sector in north-western Italy, addressing a multichannel communication strategy for all CVA touchpoints: digital, SEO, social media channels, internal communications and media campaigns.
Context
Affirming a New Identity alongside an Entire Community
CVA (Compagnia Valdostana delle Acque) has been active for over 20 years in the production, distribution and sale of renewable energy in the Valle d'Aosta area. Its strong ties with the area, make it a well-known player locally, but not outside of the region. Following INAREA's rebranding operation, the Group has appointed Cultur-e to manage its integrated communications, to accompany and exploit its transformation and consolidate the Group nationally. In the summer of 2020, we undertook the first assessment of the Group – composed of CVA SpA and CVA Energie – and began work on a communication strategy to increase its brand awareness, support business and create synergies with traditional and digital CVA contact channels.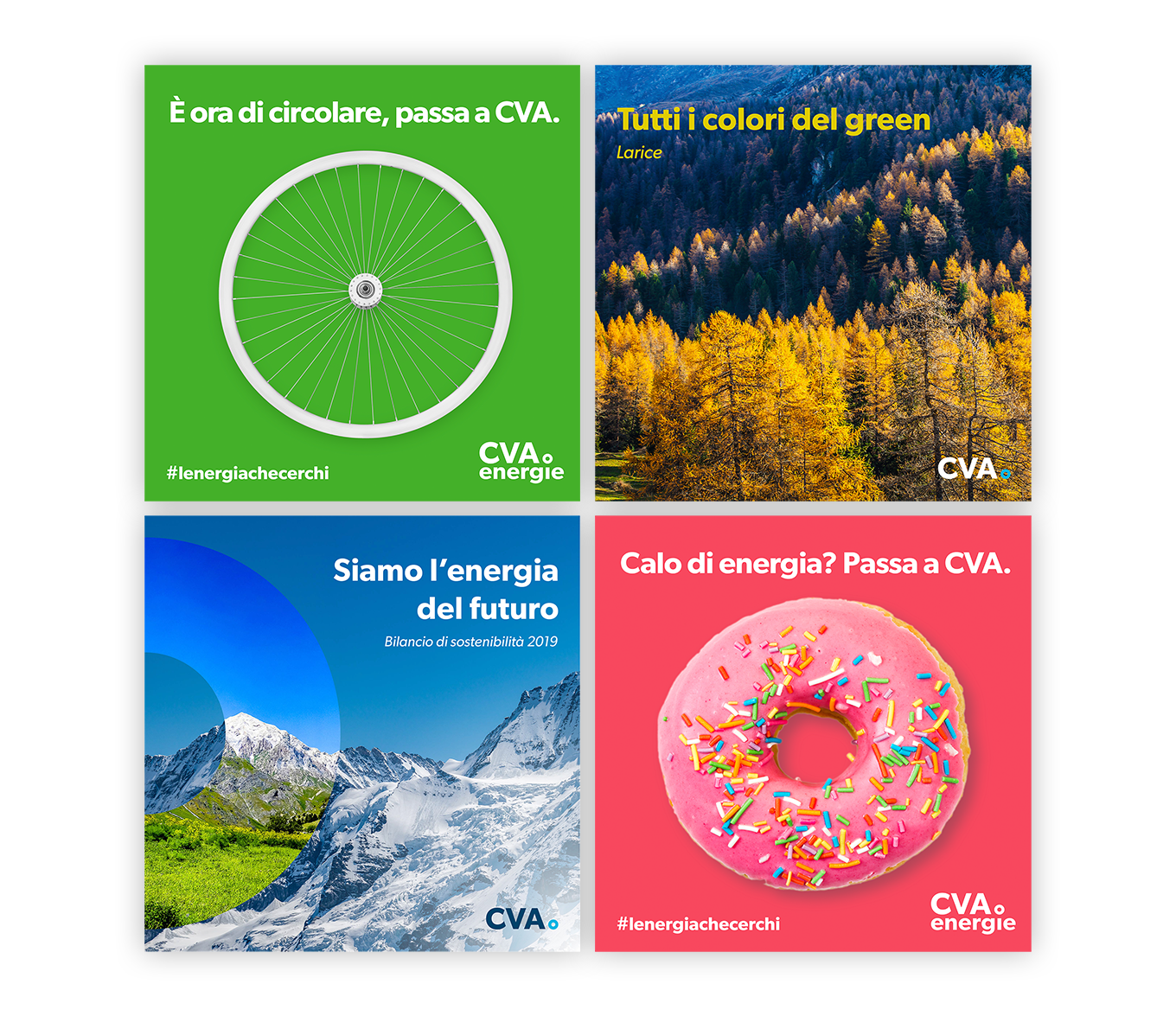 SEO Content, Social Media Profiles, Media Campaigns and Internal Communications
Based on the Group's needs, Cultur-e developed a multichannel communication strategy calling for integrated and synergic activities: a SEO strategy to identify actions on the two CVA websites (corporate and commercial), optimizing existing pages and producing a significant amount of new content, both dynamic and static; a social media strategy, including the governance and ongoing management of channels; a media plan and campaigns to support the CVA Energie brand in the national go-live; and an internal communications strategy to involve employees as ambassadors with dedicated initiatives and workshops.
Since 2020 – Analysis and strategy for multichannel communications, operative management of web channels, development and management of ATL/BTL advertising campaigns. Management and governance of multichannel communication strategy: assessment analyses; target analyses; definition of strategic issues and brand positioning; SEO and content strategies, multichannel editorial planning, social media strategy and channel governance; development of media plans with integrated multichannel scheduling guidelines for on- and off-line advertising campaigns; guidelines for the management of virtual contact channels (contact centre, chatbots, virtual assistants).
2021 – Conception and development of the EnergieMAG information portal. SEO editorial project; information architecture; UX and UI; technological development; promotion and newsletter.
Activities
Communications strategy
SEO strategy
Social media governance
Social media strategy
Social media management
Social media advertising campaigns
Campagna media
Internal communications strategy
Publishing via CMS